来源:HIT专家网 供稿:InterSystems公司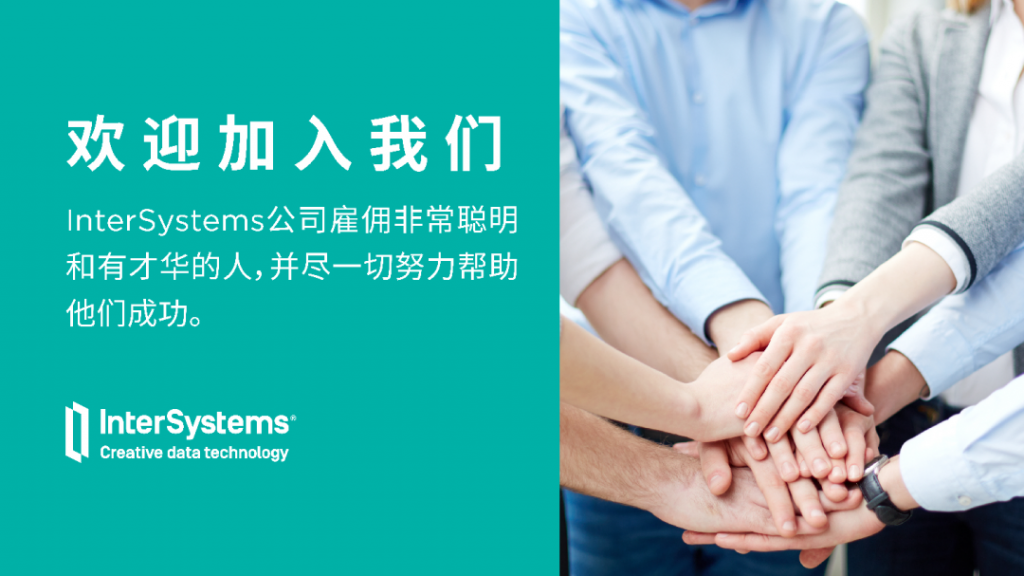 InterSystems正在招聘Channel Sales Manager及Account Manager-Sales,base北京,期待业内精英的加入,欢迎您的自荐、推荐。请将简历投递至:Belinda.Glasson@intersystems.com
(由于岗位职能要求,招聘职位说明以英文形式发布。)
Channel Sales Manager
Overview of the role
This Channel Sales Manager role will require someone who is passionate about technology within the Greater China Regions.
The role will focus on selling our core product portfolio and HealthShare into the Greater China Region IT channel.
The successful applicant will develop new relationships with Application Partners and System Integrators, whilst maintaining and enhancing relationships with current partners to ensure that Intersystems is there vendor of choice.
This role will suit someone who would like to work for a stable international company, have exposure to working with colleagues from other countries and who wants to be associated with leading edge technology.
Key Responsibilities of the Role
Develop relationships with new application partners and systems integrators.
Manage and motivate current application partners and systems integrators to ensure that Intersystems is their vendor of choice by showing value, enhancing customer experience and being the trusted advisor for them
Develop and execute against sales plan to meet revenue targets.
Work with Marketing to develop market awareness of the potential of InterSystems products, organise industry events and initiatives.
Create and maintain a healthy pipeline
Provide accurate forecasting to the management team.
Maintain awareness of industry sector and technological advances
Skills and Qualifications Required to be Successful in the Role
Strong knowledge and experience in building and expanding solid partner ecosystem
Capability and Experience of closing deals and transaction execution within limited time, driven by success and results
In depth experience in and understanding of the IT sales channel within The Greater China Region
Demonstrable experience developing Application Partner and System Integrators
Proven track record in exceeding quotas
Previous experience in developing and successfully executing against a sales plan
Ability to develop strong relationships with key decision makers and influencers with win-win strategy and be the trusted advisor to customers.
Ability to think and work creatively to develop unique value propositions for specific partners or customers
Experience negotiating and motivating a mutually agreeable and positive contracts
Fluent written and communication skills both in Mandarin and English
Experience in Healthcare is not mandatory but a plus.
Account Manager – Sales (HealthCare)
Department:Sales
Reporting to:Sales Director
What We Do Matters
Why are we here? To ensure that our customers have reliable access to the right information at the right time—information they can share and use to draw insights, leading to better decisions.
Overview of the role
The Account manager is responsible for defining and driving the account plan for each assigned customer. The Account Manager engages with senior executives and project teams within the customer organisation to understand the short, medium and long-term objectives, then leverages the InterSystems team to produce a mutually agreeable strategic account plan to execute against. This role is the point of contact for all stakeholders of both the client's organisation and InterSystems.
Key Responsibilities of the Role
You will be a key advocate for the client and ensure that they receive a high level of service from InterSystems. You are passionate about understanding the client's business needs and hold a holistic view of the client and their strategic plans. This role collaborates across external and internal stakeholders to develop a strategic account plan for each assigned client, which then serves as a shared agreement of objectives and key success factors across the lifecycle of the customer. The strategic account plan is a critical tool to ensure our customers achieve an optimum return on their Data Platform investment and InterSystems develops long-term, secure and health revenue streams.
Develop new and expand existing relationships, identify sponsors, and nurture technical, alliance and sales relationships to drive sales of Data Platform and other InterSystems products
Maintain an in-depth understanding of the political and organisational structure of a targeted prospect.
You have a track record of exceeding your targets and understand value-based selling.You will identify, manage and close sales opportunities in conjunction with various teams at InterSystems.
You will monitor change requests, user adoption, revenue, accounts receivable, and any contract renewals.
Engaging clients during their budget cycle to plan the sale of products and services.
The Account Manager also recommends supplemental services, including additional training, to the client when appropriate.
Work closely with other internal staff in Marketing, Product Development, Professional Services, Customer Operations, and Customer Support.
Developing and maintaining reference sites and facilitating site visits.
You will have a strong healthcare industry knowledge as well as awareness of other competitive products and trends.
Responsible for achievement of targets for licence, implementation and support revenues.
Key Relationships
Relationships with all stakeholders within each customer.
Relationship with the local management team.
Relationship with all immediate and cross-functional peers.
An ambassador for InterSystems with the customer and with other functions of InterSystems.
Experience requirement
Development and execution of a territory plan and mutually agreed strategic account plans.
Proven success and experience in leading complex enterprise sales with large implementation projects.
Demonstrable experience with tender responses and bid management.
Proven experience in managing senior client relationships.
Ability to develop relationships with customers at all levels across the business.
Able to develop and maintain internal stakeholder relationships.
Discover, qualify and develop new Data Platform business opportunities.
Define and execute market plans and campaigns – together with marketing.
Build a pipeline of new activity for Data Platform within and outside the customer base.
Maintain an in-depth understanding of the political and organisational structure of a targeted prospect.
Act as the principal liaison between InterSystems and partner/ customer accounts.
Interpersonal Skills
Strong customer empathy and advocacy.
Ability to make considered decisions on less-than-perfect information.
Ability to identify critical factors to consider when makings decisions.
Ability to prioritise tasks and goals appropriately.
Able to assess risks and returns effectively.
Ability to handle changes in direction and work priorities with ease; is positive and level-headed under pressure; adaptable
Qualifications
Certification/Diploma/Degree in life sciences subject or equivalent healthcare professional education, and/or commerce or business.

【责任编辑:陈曦】